Valentine's Day is coming up and it's time to get something special for your special someone. If you're reading this, there's probably a chance you were sent here by that 'special someone' or you were looking up last minute Valentine's Day gift ideas… (tsk, tsk) To make your life relatively easy, we've compiled a list of the best Valentine's Gift Ideas for her, assuming she's a wine lover, of course.
Whether you're looking for a gift for your partner or it's a Besties Galentine's celebration, or your favourite female wine enthusiast, we have a list of best wine gifts for her this Valentine's Day.
The Best Valentine's Day Gifts for Her
(If she's a Wine Lover)
Why it's the perfect Valentine's Day Gift for her: We're sure you've seen these Universal Kiss luxury rose teddy bears all over Instagram and Facebook, and let us tell you– your girlfriend wants one. She hasn't been liking and sharing them all over her social media for no reason. These bears are made of faux roses (so she can keep it forever)– throw in a bottle of Valentine's Day wine and an adorable Valentine's Day card and you've got the perfect gift for your special lady. Don't worry, you can thank us later.
Why it's the perfect Valentine's Gift for her: Who doesn't love gift baskets? Wine Country Gift Basket offers a variety of wine-themed baskets that are filled with a girl's favourite things! This basket has everything you need for a romantic picnic or a cozy night in – either way, will make for a truly special and memorable Valentine's Day gift.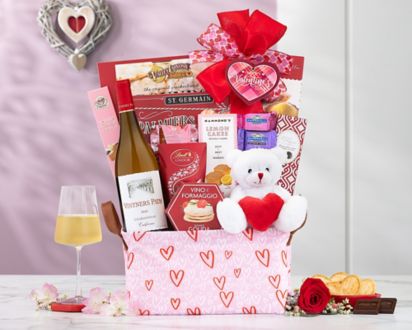 Why it's the best Valentine's Day Gift for her: Have you bought out all of Pandora? Well, there's new Valentine's Day jewelry in town! Olive + Poppy's products are all crafted in Wine Country. This Honeycomb ring is structured with two petite honeycombs: one filled with reclaimed barrel wood (you can still see the red wine stain!) and the other with a contrasting pop of white enamel. This ring is the perfect special Valentine's Day gift for a wine lover who also loves jewelry.
Why it's the perfect Valentine's Day gift: Give the gift of always chilled wine. She'll never have to worry about putting it in the fridge again. As a bonus, 5% of all of all online sales help fund clean water to those who need it – and nothing is sexier than giving back.
Funny wine labels make the perfect Valentine's Day gift
Why it's the best Love Day present: Nothing says Valentine's Day like a little wine to set the mood… Let your label say it all! It's not Valentine's Day until you've had a good laugh over a great bottle of wine. Like this one from Church & State Wines.
Why this is a great V-Day present: A painting from Leanne Laine, the Women in Wine artist is a thoughtful and unique Valentine's Day gift for any wine lover. What a better way to display your love for wine than hanging it on your wall!
Why this is the perfect Valentine's Day date idea: Spending time together is always a great gift, but spending time together doing something your s/o loves is even better. Find a local wine tasting to attend together as the perfect date on Valentine's Day.
Wine Pairing Dinner at a Favourite Local Restaurant
Why it's a great Valentine's Day idea: Like we said, spending time together doing something you both love is great. Why not enjoy some wine over a great meal filled with delicious Valentine's Day dishes paired with the perfect wines.
A Bouquet Filled With Her Favourite Wines
Why it's the most amazing V-Day Gift Idea: Roses for Valentine's Day are great, but they're so predictable. Rather than a bouquet of flowers, get her a wine bouquet! Trust us, she'll appreciate it way more – you can't drink roses!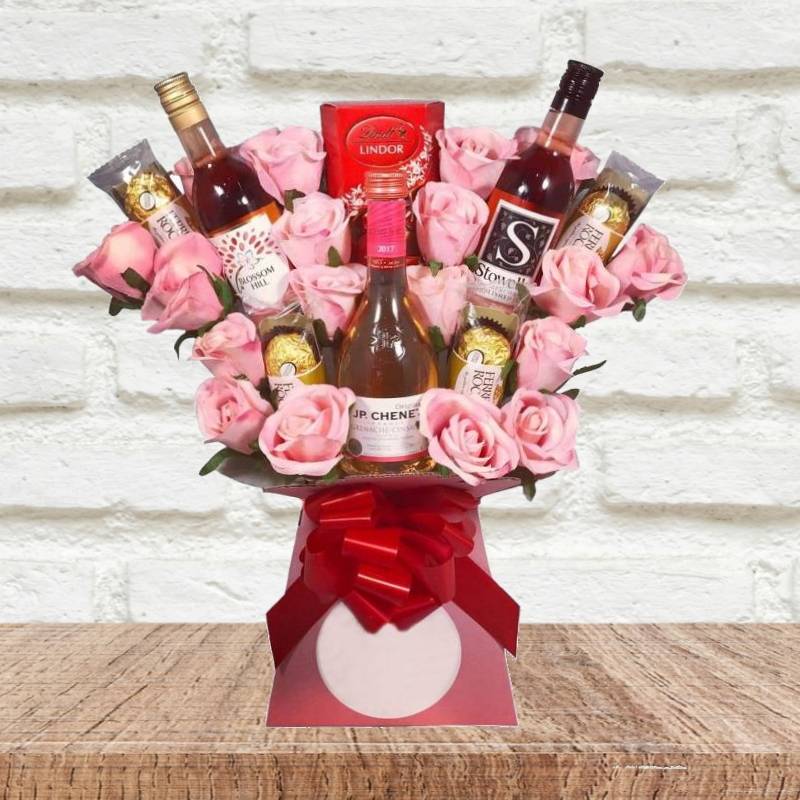 The following Valentine's Day Date Ideas will also work:
A romantic getaway — with wine.
Breakfast in bed — with mimosas
Couples games night — with wine
A limousine ride — with Champagne
Slow dancing in the living room — with wine
Why it's the ultimate Valentine's Day idea: There's wine.