The recent coronavirus outbreak has us all practicing the "art" of social distancing. This means staying home, keeping a distance of 6 feet apart from others and avoiding gatherings of 8 or more people. While its a little disappointing that this came right as the weather started to look up, we can make the best out of it with some hilarious quarantine memes that are pretty relatable right now.
---
What is Social Distancing?
If you've been living under a rock, or you're reading this in the year 3000 as part of your world history assignment– Social Distancing is an infection/virus control tactic to prevent the spread of disease or infections. In this case, to prevent the spread of Coronavirus (COVID-19). Learn more about social distancing and what is considered social distancing and what isn't here.
---
14 Days of COVID-19 Self Isolation: Wine Edition
Day 1: "When you're on your first day of self-isolation but your third bottle of wine…"
When you're on your first day of self-isolation but your third bottle of wine pic.twitter.com/UbZXaHdFPb

— Jack (@J4CKMULL) March 16, 2020
Day 2 of self-isolation: You probably had high hopes in the beginning.
Me: this quarantine would be a great time to take a break from drinking and focus on my health

Also me: what even is the point *drinks entire bottle of wine, sleeps till 1 pm, exclusively eats snack foods* pic.twitter.com/ZKjNEsS8oz

— little lowe (@andreaklowe) March 25, 2020
Day 3 of Self-Isolation: Self Cheers!
Day 3 of self isolation. pic.twitter.com/FPtLIFViJY

— GHANA'S FINEST (@Ghanasfinestx) March 17, 2020
Day 4 of Quarantine: You've probably made a Tik Tok account by now and you're making wine videos.
Day 4 of Quarantine. Wine has become my new favorite drink pic.twitter.com/m9MHiia1b2

— Shello™️ (@_JayShells) March 19, 2020
By Day 5 of Self-Isolation, you're having full-on wine tastings.
SELF ISOLATION. Let's talk about WINE . As I always say , learn something new every day. #wine#health#StayAtHomeSaveLives#pinotnoir#toastedHerbalNotes#organicspic.twitter.com/AHgJdGHMXQ

— Sam Neill (@TwoPaddocks) March 23, 2020
Day 6 of Quarantine: Self-guided wine tour, anyone?
Day 7 of quarantine: You got bored of your self-guided tour, so you decide to invite some [safe] guests:
https://twitter.com/gloveritchey/status/1241125921094057989?s=20
Day 8 of self-isolation: You've probably given up on your routine at this point.
Me, eating charcuterie for breakfast:
I wouldn't say quarantine has changed me, no

— Women Who Love Wine (@wwlwine) March 24, 2020
Day 9 of social distancing: Trying not to completely let yourself go, you keep up with your workout routine…
Quarantine got you down? Doesn't stop you from having some fun!

Betas, the wine is on you. Fund it weaklings

| findom • femdom • finsub • paypig • loser • human ATM • financial domination • Goddess • muscle worship | pic.twitter.com/Iqh70kBPOD

— Goddess Britt (@Muscle_Goddess) March 21, 2020
Day 10 of quarantine:If you haven't run out of wine, you're probably losing it at this point.
#Quarantine, day 10: the rules of society have collapsed. I just ate a peanut butter and jelly sandwich with a glass of red wine followed by 2 slices of pepper jack cheese with mustard smeared on them.

Chaos has taken over. May god help us all.

— Pup Huck (@pup_huck) March 24, 2020
Day 11 of social distancing: Chaos ensues.
https://twitter.com/Pork_Chop_Hair/status/1241141607686078465
Day 12 of social distancing: Questioning how much longer this can go on.
Day 13: When you start doing some research on Coronavirus and read that it can be cured with alcohol
Just call me Meredith Grey! (Sorry, kids.)
(Please note: this is not a proven fact.)
Day 14: You've successfully made it through the 14-day self-isolation period and you'd like to attribute it to wine:
A glass of wine a day keeps the coronavirus away

— Erika Cardenas (@erikacr95) March 25, 2020
While this is all in good fun, Coronavirus is a serious matter. Here at JustWine, we want all of our readers to stay safe and stay home. Social distancing is the only way we can help plank the curve.
You don't have to be lonely when you're alone.
Pick up the phone, call a friend. Have a FaceTime/Skype dinner party. Join an Instagram Live workout class. Fight the urge to hermit during social distancing. Humans need social interaction to survive. Without it, we can get depressed. Remember that we are alone together.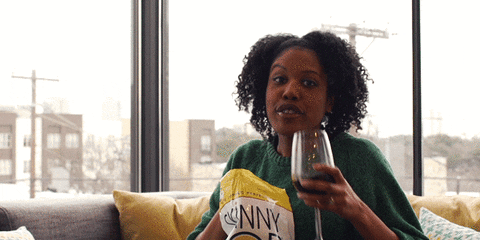 Coronavirus Resources / Government Safety Advisories by Country:
Canada | United States | World Health Organization
About Coronavirus
What is Coronavirus (COVID-19)?
While there are many types of coronaviruses– this new Coronavirus, COVID-19, is a respiratory illness that started in China.
How is Coronavirus spread?
Coronavirus is spread from person to person. The virus is considered "airborne" which means it is commonly spread through particles in the air from an infected person entering the body of a healthy person, commonly through eyes, nose and mouth. It is also considered a community spread which means people have been infected with the virus in a particular area, including some people who are not sure how or where they became infected. It is crucial at this time to be frequently washing your hands and avoid touching your face.
What are the symptoms of Coronavirus?
The most common symptoms of coronavirus are: fever, dry cough, fatigue and shortness of breath. These symptoms are quite similar to the average cold/flu which often gets mistaken for coronavirus. Remember the only real way to tell is through a diagnosis from a doctor.
For more information on Coronavirus, see the Coronavirus awareness page by the Government of Canada.
If you or a loved one has visited an affected area and suspects that you have contracted coronavirus, stay home and call HealthLink (8-1-1) or (+1 (905) 828-0917) to speak to a medical professional. You are advised not to visit the emergency room/urgent care for the risk of further spreading the virus.