Mimosas are a brunch and shower staple. They're delicious and with all that Vitamin C, they're practically a super-food. We love mimosas so much, we perfected the ultimate mimosa recipe. Plus, there aren't that many occasions where it's not just acceptable but expected that you drink champagne before noon.
For most of the mimosa's history, the recipe has been unchanged. Orange juice and prosecco or cava. Many people would think, "If it's not broke, don't fix it".
Those people have obviously never heard of these amazing mimosa recipes.
10 Mimosa Recipes to Up Your Brunch Game
A Mermaid Mimosa (a.k.a. "mermosa") is a delicious twist on the traditional recipe, with a gorgeous ombré hue. Perfect for those days you want to lay by the pool and get some sun on your fins.
This sunrise mimosa recipe by a cup full of sass is a delicious riot of colour, perfect for brunch… or Wednesday afternoon.
Pretty pink cocktails that have a full serving of fruit & vegetables? And a 2 ingredient recipe? We are here for this recipe by Sweet Phi!
Move over Bailey's & coffee, looks like this candy cane mimosa recipe from delish is our new Christmas morning drink!
This recipe by Crazy for Crust is a summertime favourite reimagined as a cocktail. Perfection.
These mint watermelon mimosas from Mindful Avocado have watermelon blended right into the drink! That's basically a fruit smoothie. We can feel ourselves getting healthier.
This pineapple mimosa by Blackberry Babe is a tropical twist on our favourite cocktail. And since pineapple juice is a digestive enzyme, this one would be great with a heavier brunch.
Got a luau themed shower coming up? This hibiscus mimosa from Spice and Tea is the perfect drink to bring!
Not to be outdone, Cosmo brought us the Unicorn Mimosa. Complete with edible glitter and unicorn horn garnish.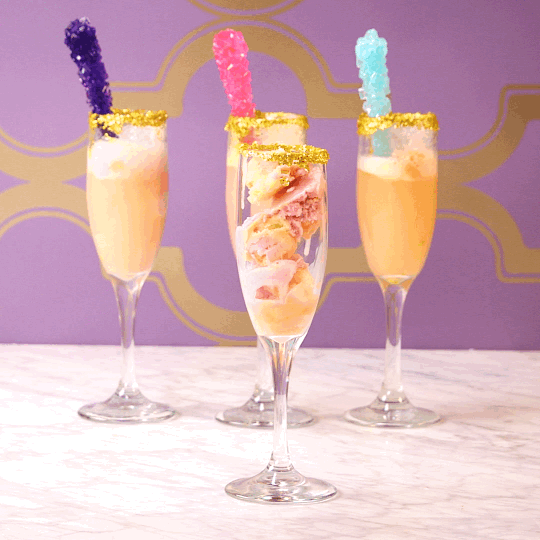 These Tiffany blue mimosas are perfect for any "Breakfast at Tiffany's" themed party!
With this many mimosa ideas, your next brunch or shower is sure to be the talk of the town. Just don't be surprised if guests start showing up that you don't remember inviting.
Like these recipes? You should check these out:
How to Make the Perfect Mimosa Recipe
The Best Wine Pairings For a Boozy Breakfast and Brunch
5 Delicious Wine Cocktail Recipes You Can Make With a Bottle of Moscato